‌
RankLetter for
browserextension‌.dev
‌
2023-08-15 — 2023-09-14
‌
Time to rank! Below you find the latest report of your rankings on Google.
‌
‌
Performance
The graphs detail your Google ranks and traffic for browserextension‌.dev.
‌
SERP Positions
The graphs below indicate the distribution of your keyword ranking over the previous month.
‌
Top 3

2 (+1) keywords

4 — 10

4 (-1) keywords

11 — 50

25 (+2) keywords
‌
Please note, that your pages might drop out of one category and appear within another category. The total volume (below) can give more insights.
‌
‌
Total Traffic, Impressions and Keywords
Your website showed up in 43k searches covering 6.5k different keywords. It received 18 clicks resulting in a CTR of 0.04 %. The graphic shows the distribution over the last 90 days.
‌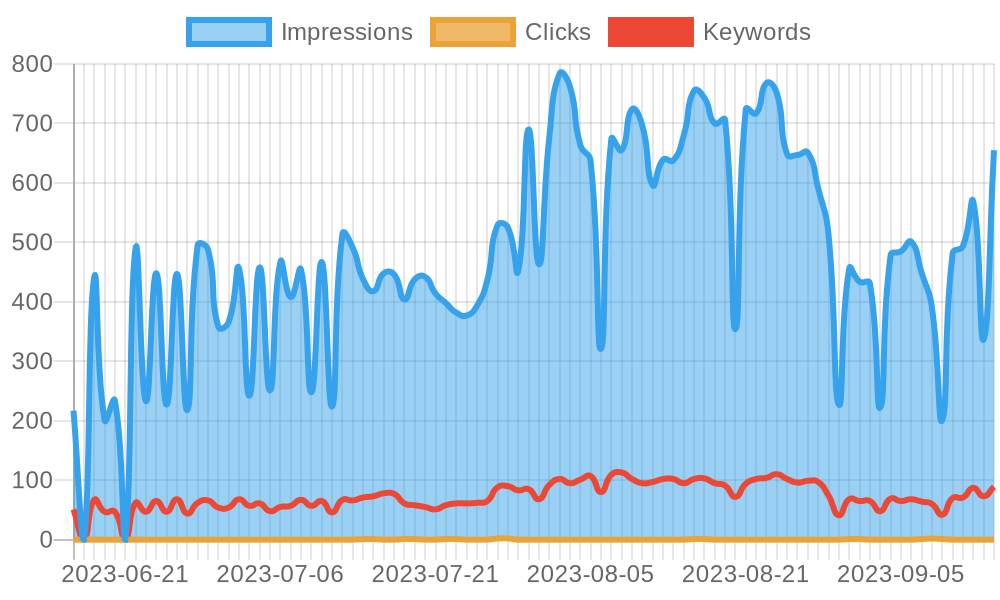 ‌
This covers Google only. Other search engines aren't considered.
‌
‌
Improvements
New content and optimizing existing content on browserextension‌.dev helps to rank higher. Below are ranking opportunities for your existing content. These can also guide to ideas for new content.
‌
SEO Opportunities
Opportunities are keywords you already rank for, but not in the best spot. By improving your content and link-building, you can improve your rank and increase your share of search traffic.
‌
Keyword
Volume
Position

notyfy
105

+192 %

9.7 1.0
‌
‌
Underperforming Pages
Some pages on your website have the potential to drive more traffic. Underperforming pages achieve a high number of impressions but rank only on pages two to five in the search results. By increasing their visibility using internal links, backlinks from other websites, and improving the content, you can improve their rankings and drive traffic.
‌
‌
‌
This report has been generated using Google Search Console data. Several reasons can lead to differences between your analytics and this information. These reasons include delays and coverage of other search engines within your web analytics. For any questions, please get in touch.
‌
‌
You received this email because you signed up for RankLetter, a service helping you improve your websites. If you did not request this email please get in touch.
‌
© 2023 RankLetter by bring your own ideas Ltd.. All rights reserved.
‌
bring your own ideas Ltd.
185 Willis Street, Lvl. 4
6011 Wellington
New Zealand