If you are running your own blog for quite a long time, there are chances that you have created several posts optimised for the same focus keyword. Most people don't even notice this thing, but it can be harmful to your overall rankings.
So, today we're going to discuss keyword cannibalization, its importance, and its solution.
What is Keyword Cannibalization?
When you create multiple pages with the same focus keyword on your website, you'll likely get keyword cannibalization.
For example, have a look at the search results for the term 'identify cannibalization'. At #11 and #12, you'll see SEMrush's blog posts: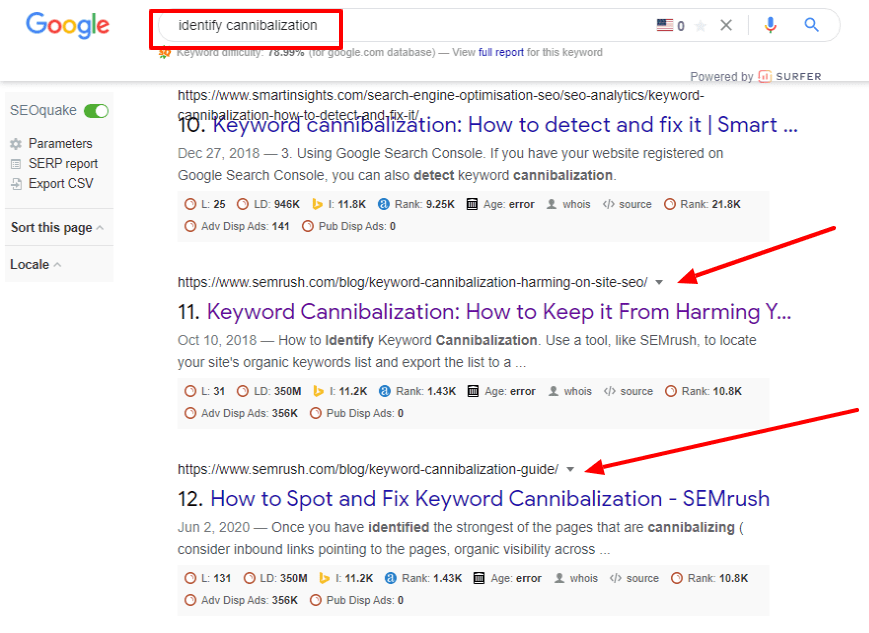 SEMrush is targeting and ranking for the same keywords, and that's a good thing. Isn't it?
With two blog posts on the same topic, the search engine will potentially fail to rank the most authoritative post related to that keyword.
This is why SEOs don't see cannibalization as a good thing, and there are several other reasons as well (which we'll discuss later).
How do you get keyword cannibalization?
Let's take an example: you have a website related to dogs and dog food. The scenario is that you have two different blog posts targeting -intentionally or not- the same keyword: "best dog food".
It's possible that these two pages aren't exact copies of each other, but they may offer strongly similar information. And if that's the case, you should merge these pages into one. A strong indicator is a large overlap in keywords these pages rank for. At RankLetter, we recommend merging or partially merging from 20% overlapping keywords.
The scenario can also change. For example, if you target two similar keywords with different search intent, such as "what is the best dog food" (informational) and "best dog food brands" (commercial). While these two keywords are related and might rank for similar keywords occasionally, both would offer two different types of content.
If you are struggling with keyword cannibalization issues, here's how you can fix them right away.
How to avoid keyword cannibalization issues?
While planning content for your newly established blog, niche or company website, we strongly recommend you to create an excel sheet that contains all of your focus keywords and assign each keyword with the search intent, content type and page URLs.
For a large website, it pays to make sure to check your content planner sheet every time you plan to create a new blogpost. This will help you to figure out if it contains duplicate entries or not. If yes, you can simply avoid writing on that particular keyword again and instead expand the existing article for the keyword and search intent
How do I identify keyword cannibalization?
There are different ways to identify Keyword Cannibalization issues on your website, some of the best methods are mentioned below:
By using Google Search Console
The best method to check keyword cannibalization is through Google Search Console. All you have to do is to log in to your Search Console, choose your domain and click on the Performance tab, then navigate to the search results. Click on pages, and here you will get a list of pages from your website that is ranking for the same keyword.
By using Ahrefs
Ahrefs is another famous tool for SEO that provides you with all-in-one solution as an SEO tool. To identify keyword cannibalization, go to the Ahrefs Site Explorer and enter your website link there.
After that, navigate towards Organic Keywords and export all of them to CSV. Open the downloaded CSV in Google Sheets or Excel and search for duplicate keywords.
SEMrush
SEMrush is another SEO tool that can help you find out keyword cannibalization. Firstly, log in to your SEMrush account and add your website in their position checker tool.
Add the keywords that you suspect of cannibalization, click on the dashboard button and then click on Cannibalization. Here you will find keywords and pages that are causing Keyword Cannibalization.
How do I fix Keyword Cannibalization?
As mentioned above, not every similar page is automatically keyword cannibalization. But if you face one, here are some methods you can adopt to fix it:
Delete the content
Deleting your content is the easiest way to fix keyword cannibalization.
If one of your pages is of low quality, it wouldn't add any value to the stronger article.
If the web page is no longer providing any value to your website, you can simply delete it. Neither exists the web page, nor there is any problem. You should also use a 301 redirect to redirect the low-quality page to the stronger article.
Now, let's move towards the next solution,
Merge Content
Merging your website pages that rank for the same keyword is the recommended approach to avoid cannibalization.
For example, if you have published two blog posts on the same topic and you are not willing to delete them, then you can simply merge the two resources.
Identify which one of your similar pages is weaker (has less search traffic) and which one is more substantial. Merge the weak one into the stronger one and remove duplicated content. And then you should add a 301 redirect from the old article to avoid losing out on the authority.
However, it's not compulsory that this solution will work for you every single time. But merging two optimized posts into one can enhance the overall SEO of your web page.
Switch the focus of your article
Another good option to avoid cannibalization is to change the content and with this change its focus.
You can avail this method if your page is ranked on any of the keywords, or if it is bringing traffic and don't want to delete it.
Naturally, this method requires manual work and it is a slow-moving process. You have to proofread your content and remove the focus keywords or references that lead to duplicate content issues.
Conclusion
Even if keyword cannibalization is mostly an issue faced by large websites and sites with a lot of user-generated content, it's still something to keep a close eye on.
Google algorithm, as well as search intent, can change over time and with it how your page rank. Regular manual or automatic checks for cannibalization can help. Any damage caused by cannibalization can be fixed fairly quickly as you are controlling the site.
Some authoritative websites also face keyword cannibalization. But, in some cases, both of the web pages help the website to grow, because they bring in more traffic.
This may be a good thing for the website owner, however, the search engine will get confused while sorting out the most authoritative page. Hence, it can damage your rankings.
But by using the above-mentioned solutions, one can easily tackle keyword cannibalization.